Recently, I went to a friends house and their backyard was like an oasis. When I went home, it made me think how I can improve our outdoor space. We have four little dogs so anything fancy is out of the picture. We needed something that will last so all the fancy wicker sofas and dining sets are out of the picture. Our dogs will just use it as their peeing ground. Then google images led me to this set from Frontgate.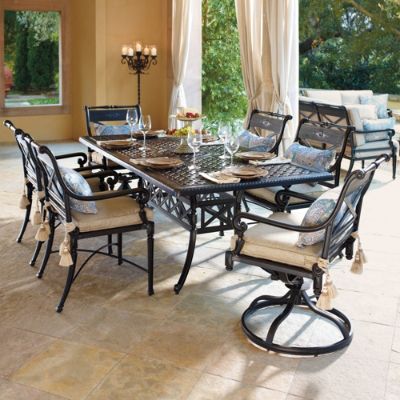 I loved the dark metal chairs with the lighter cushions. Unfortunately two armchairs alone would cost $716 on sale. Enough said…..
Heres another set called Glen Isle from Frontgate that I spotted:
These gorgeous chairs are only $1036 for two on sale in case any readers want to grab them while they are still available. LOL
Thirty minutes later through pure luck I spotted this set on Craiglist in Fontana listed for $50 for six metal chairs. Thats less than $10 a chair with cushions that I can redo. The next day these babies are safe and sound in my backyard all thanks to my super dad.
The set actually came with a round stone table but I didn't want it. I liked the metal legs of the table because it matched the chairs and its literally indestructible. Tonight I got ahold of another craigslist post for a rectangle table listed at $20. I liked the color and I plan to replace the legs.
I can't wait to refinish these chairs and give the cushions a facelift. I'll be back soon with more updates.
Total spent so far: $70
$50 for six metal chairs and cushions
$20 for table